The morning didn't exactly go as smooth as I would have liked and I was running a little late to get in the water. But I made it, and despite my prediction that I would feel quite nervous swimming out to the line, I was pretty calm.
I took a spot way out on the right side of the lineup and waited for the gun. It fired & off we went
Swim: 25:02
Due to my somewhat conservative start position I was pleasantly surprised by how smoothly the start went. Not much contact and soon I found myself in open water and began moving left toward the feet of the pack. Soon I also realized that my start position had left me back of where I wanted to be. So just before the turn, I worked my way through 2 packs of swimmers, and after the turn was able to pick up a few more spots. I came out of the water in just under 25 which was a 2min improvement from last year. Pretty happy with that. I felt super strong on the 2nd half and my new
Zoot Zenith
was INCREDIBLE! The shoulder flexibility in that thing is INSANE! In the last couple hundred meters I was able to shed some of the guys off my feet and came in with a little gap.
Bike = 2:25:02
As I mentioned I had been a little hurried in setting up transition. Well I had just left both my gel flasks (1 bike - 4 PowerGels, 1 run - 3 PowerGels) on the ground next to my run shoes. I don't take anything off the ground in T1 so of course, about 2min into the ride I realized I had forgotten my flask, and thus, about 80% of my fuel for the ride. Out the window went my fueling plan. I was able to grab a PoweGel at the 1st aid station, and one at the 2nd, but the rest of the ride was gatorade, and that definitely had me running a bit low at times. I forced myself to ration the gels, taking one at mile 26 or so and one before the final big climb. The ride itself went pretty well, I was caught by some guys early on and didn't push to stay with them knowing my fuel situation and the hills that lay ahead. From about mile 25 through the final climbs, I found myself with fellow Blue rider Trevor Wurtelle and a couple other guys. Nicholas Thompson caught us after some of the hills and the dude was hammering. I have never seen someone ride a bike with such aggressive pedal stokes. Dude rides ANGRY. My plan was to ride a little conservative through the climbs, so on all the flats and downhills I would go off the front of our group, then get reeled in on the climbs. I am sure those guys were annoyed with me for that. But after the final climb I had planned to give it what I had left and that is what I did. I hammered pretty hard from the last climb home and the
Triad
was awesome. I am continually impressed with this bike every time I ride it. The power transfer is incredible. Fortunately my plan worked and I was able to pull away from those guys and give myself a little cushion into T2.
Run = 1:21:36
I had hoped to run under 1:20. That has been my goal since running 1:20:01 at Clearwater. However, I think the wind on the back side of Pendleton took more out of everyone this day and was the reason that the course was about 7-8min slower this year. So when I saw that Michael Realart ran a 1:17:xx I wasn't so upset with my 1:21. But still, the run needs work and you best believe the Dirkinator knows it. I felt relatively good going out and all the way through the first lap.
I was caught by one guy and was able to gather myself, and retake him shortly thereafter. But when Nicholas Thompson came by it was all I could do to hold on for the 2nd half of the first lap then watch him run away. Onto the second lap I knew I had some work to do to stay ahead of some guys.
Just before the turn around Trevor Wurtelle caught me and I couldn't answer. On the boardwalk I traded wind breaking duties with Mike Neil but he was able to put a gap on me up the final little incline. It was almost a good thing though, because since I wasn't battling with him to the line, I was able to stop and give my mom a Birthday hug and kiss and thank her for her support.
I was also able to see the Dirkinator himself just before the line and get a high five and a hug. Greg Welch had to tell me it would be a good idea to get across the line.
Total = 4:15:28 and I was happy with that. It was an 8min improvement over last year, not as big as I wanted, but I will take top 15 in my first pro race against that high profile of a field.
I waited at the finish for
Charisa
and we celebrated our first pro finishes.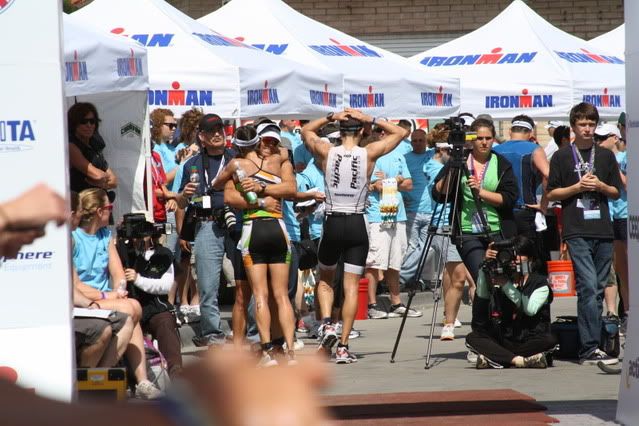 We even got a few "Congrats" from the Coach
All in all it was an incredible weekend. I owe a huge "Thank You" to many who made it possible including
Zoot
for putting me in the most high performance products on the market,
Blue Competition Cycles
for letting me ride a bike that will do battle with the best of em,
TriSports.com
for feeding us on Friday, for some incredible cheering and for being the one stop shop for all I need to get me to and through race day; and
PV Bicycle Center
for fitting me to my awesome bike and especially to Dave for keeping it running in top shape.
Cheers